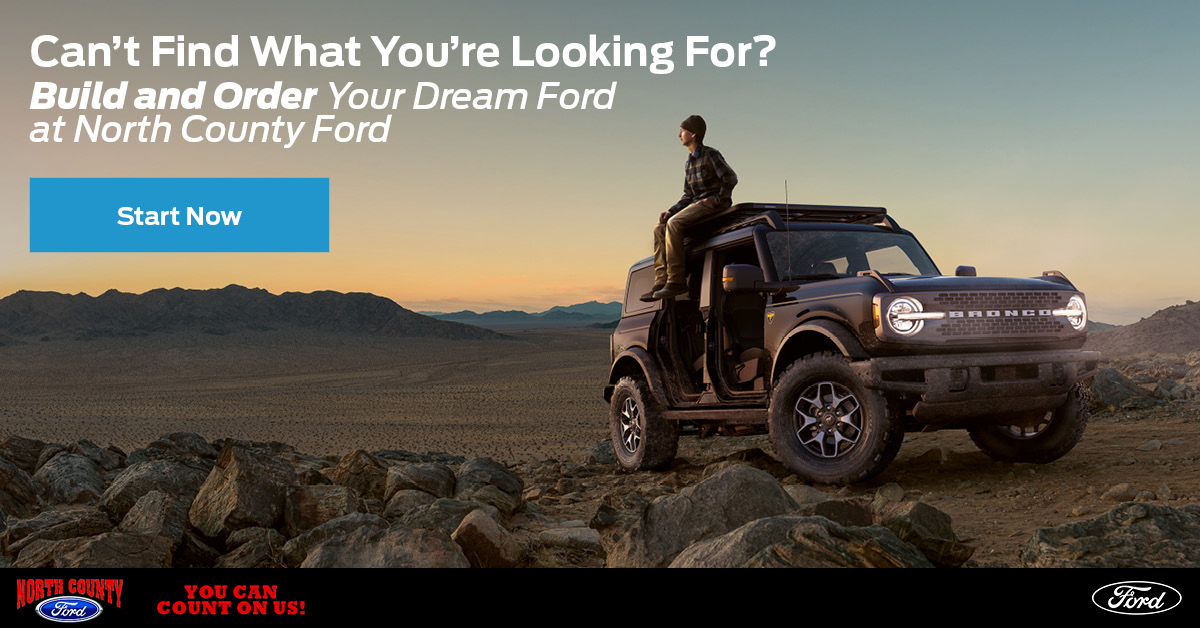 Check Out Our New Ford Truck, Car and SUVs for sale near Fallbrook
Carefully browse our new inventory when you visit North County Ford here in Vista, CA. Our new vehicle inventories have new cars, SUVs, and trucks that would be awesome for any trip you plan to take. Find out more about our new Fords and why you should purchase. After reading, travel to our dealership not too far from Carlsbad, and our team members will set up a test drive with the model you like.
Why Purchase a New Model from Us
Our dealership holds fantastic models for drivers close to the Oceanside area. Every Ford model we have in our new inventory provides plenty of driving and technological benefits that would boost the experience of every passenger riding in them. There are so many models to choose from that differ in body styles. Find out what you want or need within a vehicle, and our Ford models will likely have it. Here are some body styles and models customers might run into when browsing our new inventories.
We Have Sedans
Wouldn't you want to travel through San Marcos in style? Take the Ford Mustang, for example. Our Ford Mustang models are slick coupes that display style, ferocity, and power. They have turbocharged engines that provide plenty of horsepower and torque; something drivers will feel the harder they step on the gas pedal. Performance features within the Ford Mustang also complement the speed and strong acceleration of the Ford Mustang with traction control and sensing systems for a safer and more controlled drive.
We Have SUVs
A coupe is great. However, if you need space, our Ford SUV models are the way to go. The selections within our new SUV inventory will amaze you. Customers with interest in our SUV inventory will see models like the Ford Edge and Ford Explorer. The main significance between models like these is size. For mid-size SUVs like the Ford Edge, they provide plenty of space for passengers but usually fit around five to six people on average. On the other hand, the Ford Explorer sits up to seven passengers and has more cargo space than the models like the Ford Edge. We also have electric SUV models like the Ford Mustang Mach-E. Drivers can now eliminate the need for gas stations and refuel by plug up our electric SUVs at home or fuel alternative stations before heading off.
We Have Trucks
Perhaps you need something more powerful to get all of your heavy-duty tasks complete. Say no more! Our Ford truck inventory has the trucks drivers need to handle all their heavy work. Drive Ford trucks like the Ford F-150 that has plenty of trim levels like the Ford F-250SD, offering different cargo bed sizes and more. Customers can also take it up a notch with the Ford Ranger. It's a bigger truck for bigger tasks. All of our Ford trucks exhibit brute towing and hauling strength, as well as a powerful engine to get them from one destination to the next.
We Have Vans
Our new inventory doesn't just stop there. We have cargo vans too! Hop in new Ford cargo vans like the Ford Transit Connect or the Ford Transit-250 that is safe, sturdy, and large enough to plenty of material. If you have a business that requires transporting goods or other materials, purchase any of our Ford cargo vans and utilize the blank space on the side for your business logo. You'll be able to get to all of your clients in a jiffy!
Shop with Us Today
Drivers near Escondido and surrounding areas should make their way to North County Ford to purchase a new Ford model. We have different ways to finance with us and open our service center doors to you whenever you need a repair after purchase. Talk to any of our Ford team members today about setting up a test drive. See you soon!