Welcome to Our Parts Department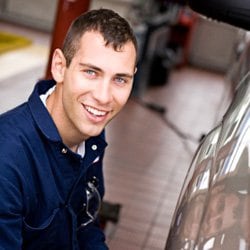 Order All Your Genuine Ford Parts and Accessories in Vista, CA
When you own the same car for years, it's your responsibility to keep up with its routine maintenance schedule. Along with regular oil changes, tire rotations, and brake inspections, you'll also need to replace key parts. When your Ford Edge needs new brake pads or tires, would you rather risk buying through a third-party mechanic or trust your certified Ford dealer? For Vista drivers who want quality Ford parts and accessories, you'll make a wise choice by ordering from North County Ford, serving the Oceanside district.
The Difference Between Aftermarket and Authentic Auto Parts
If you're always looking for the lowest price, it's easy to feel tempted to purchase aftermarket parts and accessories. However, choosing this outlet often means sacrificing quality to spend less. As wonderful as it is to save money, it's not worth compromising the safety and performance of your Ford SUV, truck, or car. You want those replacement spark plugs to be 100-percent compatible with your Ford F-150. If you shop aftermarket, you'll never have that peace of mind that these cheaper parts are the best fit, which could cause expensive repercussions down the road.
By requesting authentic Ford parts from North County Ford, near Carlsbad, you'll know without a doubt that every auto part comes manufactured specifically for your family's Ford Explorer. With Ford engineering and factory-tested quality, you won't have to question the long-term compatibility of the parts that you buy in Vista.
Reasons to Order Parts at North County Ford Near Escondido
Here in Vista, our staff works to connect California drivers to one of the quality Ford models in our inventory. Once we've succeeded in sending you home in the new Ford Fusion, we'll remain within reach for all your service and parts needs. In our Vista Ford service center, our factory-trained Ford technicians help keep your Ford investment looking its best and performing like new. To uphold this goal, they rely on our selection of genuine Ford parts and accessories.
With our family-owned background and over 20 years of serving the Vista community, we've already helped replace parts on many Ford cars, trucks, and SUVs. We want our Ford owners to have a confident driving experience around Vista, CA. That's why we advertise a robust assortment of Ford parts and accessories like:
Oil filters
Wiper blades
Brake pads and rotors
Spark plugs
Tires
Batteries
Serpentine belts
Exterior mirrors
Headlights
Floor mats
Cylinder heads
Trailer hitches
Splash guards
Remote start system
In our Vista-based service center, California customers will find 32 well-kept service bays. This volume promotes greater efficiency in how we repair and perform parts replacements on popular Ford models like the Ford Ranger and Ford Escape. If you need new brake pads installed or headlights replaced, you can trust the team at North County Ford to perform the replacement quickly and carefully.
How to Order All Your New Ford Parts and Accessories at Home
If you know that you need new wiper blades or tires, but you don't have time to call or visit North County Ford, you can still get these parts for your Ford Expedition. From home or while you're on the go, you can submit a request for whatever Ford part or accessory that you need. Once you send in your Ford parts request to North County Ford, one of our parts specialists will quickly locate and then contact you when we have your order ready.
We know that your time is valuable, which is why we make ordering authentic Ford parts a quick and easy process for those in surrounding areas of Carlsbad, Oceanside, and Escondido. To get a new oil filter, serpentine belt, or battery for your Ford EcoSport, submit a parts request to your Vista Ford parts center today.