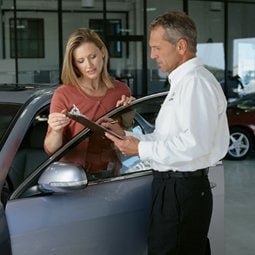 Servicing Your Ford at our Service Center
There's no doubt that regularly servicing your vehicle pays off in the end. From avoiding expensive work by catching problems early to getting excellent value when you go to sell your car, a regular maintenance schedule offers plenty of benefits that will outweigh the money spent.
Referencing your Ford owner's manual will let you know the particular schedule for importance maintenance, with both short-term services like oil changes or tire rotations and long-term service like changing a timing belt or having the vehicle's differential(s) inspected.
Routine Maintenance
One of the most important maintenance jobs that can be done for a car is one that most Carlsbad drivers can easily accomplish. Not only is it satisfying to have a clean car, but it can also help the vehicle to maintain its value over time if you wash it regularly. If you spend a few times each month going over your car in detail inside and out, you're likely to catch plenty of small issues before they develop into an expensive problem. A tiny nick in your paint only takes a few moments to fill with some touch-up paint but left unattended, and that same spot can develop into a patch of unsightly corrosion.
Keep your car looking its best and take a moment to fill up any engine fluids and check your tires at the same time for both tread depth and tire pressure.
Maintenance issues you're likely to encounter throughout the time you own your vehicle will include things like:
Oil changes
Brake replacements
Bulbs burning out
Wiper blade replacements
Tire rotations
Filter replacements
You can find the optimal intervals for things like oil changes and tire rotations in your owner's manual, and it's best to follow the manufacturer's instructions for your particular vehicle rather than generic recommendations. Ford specialists developed a plan that takes into account the variety of things unique to your vehicle and tailored an ideal plan just for it.
Advanced Service Offerings
More advanced maintenance issues that even mechanically inclined owners around Escondido would hesitate to tackle include long-term repairs like installing a new timing or serpentine belt and the inspection and replacement of spark plugs, struts, shocks and differentials.
As your car ages, it will also need a flushing of systems like the transmission, brakes, coolant fluid exchange or transfer case of their fluids, and a replacement with recommended additives. Most of these tasks are best left in the hands of certified Ford mechanics who bring both experience and skill to the job.
If you're like most Oceanside drivers, your car will also be subject to swings in temperature as the year advances, sometimes dramatically so. High summer temperatures can have a harsh effect on many of your vehicle's engine systems, especially the battery. Your oil viscosity should also be adjusted to reflect the demands of the season, and you may need to change your tires for a summer or winter set for optimal traction.
Bring Your Ford Vehicle to Our Service Center in Vista, CA
If you don't feel like you can manage some of the more complicated aspects of your vehicle's maintenance schedule or you simply don't have time in your busy schedule to devote to maintaining your vehicle, bringing your car to our Ford service center gives you the peace of mind that your car is in expert hands. Ford mechanics are qualified in a full range of repairs and are certified to work specifically on Ford engineering.
We also use Ford recommended parts and additives whenever required, giving your vehicle the best care possible. You can always call to make an appointment to bring your vehicle in, but now you can even schedule your appointment online for added convenience.